Services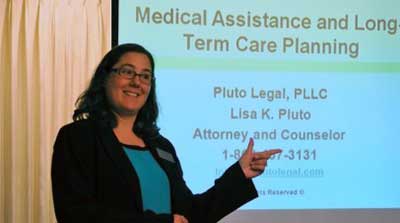 Workshops
If you would like to schedule a workshop at your facility, please give Cheryl a call, toll free, at: 1-866-457-3131 . We would enjoy coming to your community at no charge to educate on the topics of Medical Assistance, Disability Planning, or Estate Planning.
---
CEU Provider
CEP Number: CEP-219 Name: Pluto Boes Legal, PLLC Address: 100 E. Hwy 14 Tyler, MN 56178
Phone: (866) 457-3131 Email: cvos@plutoboeslegal.com
---
Elder Law Review
The Elder Law Review is a periodic newsletter containing the materials regarding Estate Planning and Medical Assistance Planning for social workers, financial advisers, and the community. Please call us toll-free at 1-866-457-3131 or email Traci at tsherman@plutoboeslegal.com to have your name added to the mailing list for this publication.
2018 Elder Law Review
2017 Elder Law Review
2016 Elder Law Review
2015 Elder Law Review
2014 Elder Law Review
---
Medical Assistance Guide
This guide, written by our founding attorney Lisa K. Pluto, provides general information concerning your options in financing a long-term care stay for yourself or for a loved one. It is regularly updated as new information becomes available.
To request a FREE copy of this helpful guide, please call Pluto Legal toll-free at 1-866-457-3131 or you can email Cheryl at cvos@plutoboeslegal.com and request a copy be mailed to you.
---
Answers to Alzheimer's and Dementia Questions
Fisher Center for Alzheimer's Research Foundation www.alzinfo.org 1-800-ALZINFO (259-4636)
---
Minnesota Department of Human Services
Valuable Information is available at: mn.gov/dhs including publications, health care options, assistance information, and much more.